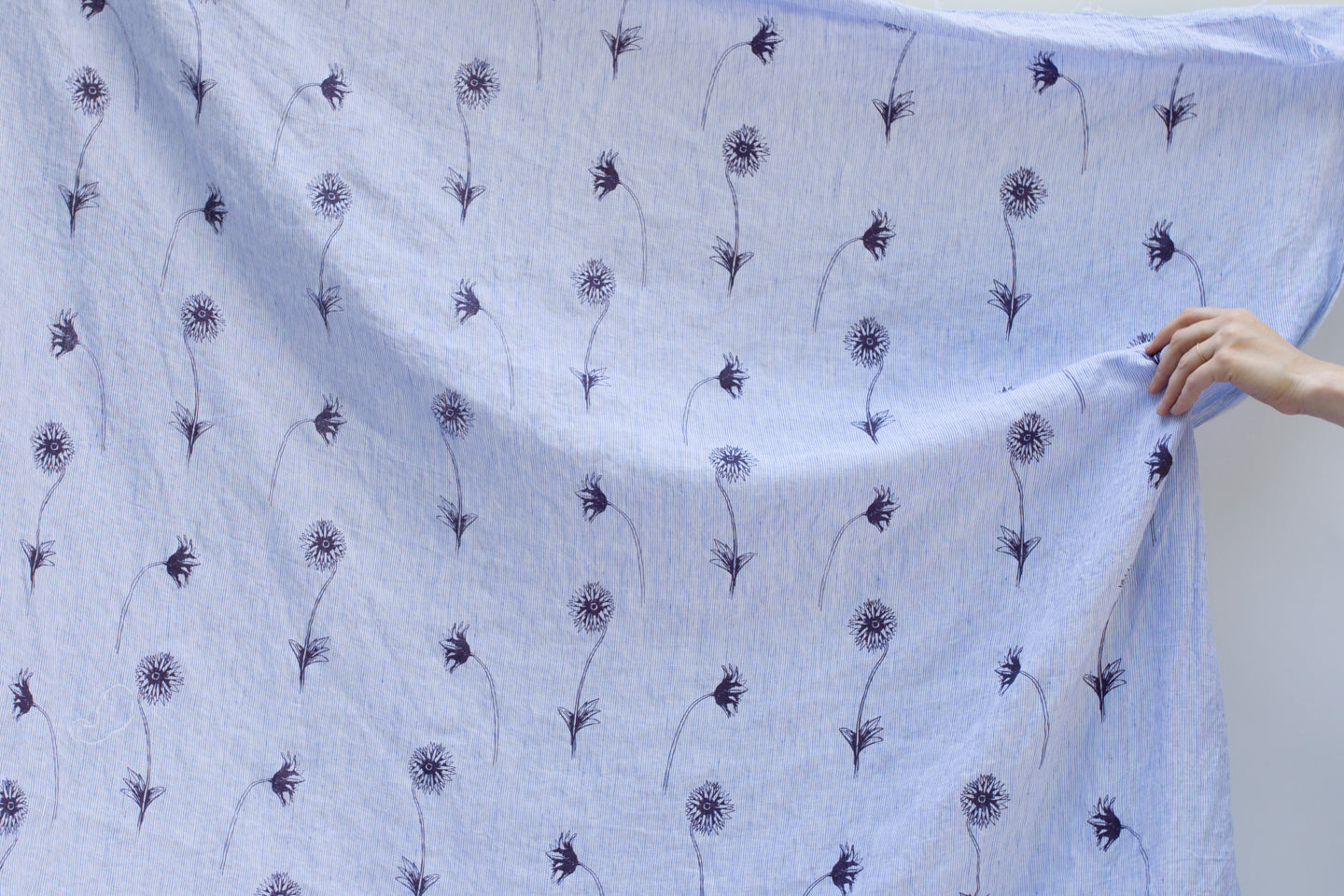 I've been wanting to sew up a simple top in our apparel-weight linen all summer, and Odette Stripe was calling my name. It's a cool and breezy lightweight linen with a light blue woven stripe. We printed it with one half of our Spring Flowers design to give it a block-printed feel.
I thought the Willow Tank by Grainline Studio would be a good option for a simple top.
Lizzie helped me alter the pattern for a better fit. We raised the arm hold on the front and back bodice and raised the bust dart by 1.5".
I gotta admit, I'm not thrilled with the look of this tank in this fabric. I think the Willow will be a great staple pattern for me, but it doesn't encapsulate the femininity I was going for in this print. Now that I actually see what this print looks like on my body, I think I'll try a wrap top next - can you envision it in this pattern from Peppermint Magazine?
(this wrap top is a free pattern! Check it out here!)
And speaking of seeing myself in this top - this is a really hard blog post for me. Body positivity is a constant challenge for me. I feel like the vision I have of myself in my head is of a wispy, flowy fairy lady, but the photos don't look like that. :) 
I have to remind myself of all the wonderful things my body does for me. Like lifting heavy things, screen-printing yards of fabric, planting and working in my yard. I don't have the best body image but I'm working on it. Laughing with Simon as we're taking these photos helps a lot too, and I plan on continuing to post my #memades on the blog and look at my body more.  I want to share something made with our fabrics and have an archive of it too, so here it is.
I'm so glad times are changing and there's a lot more talk out there about accepting our bodies - not to mention resources for those of us who need to practice more self-compassion!
This illustration by Diana Sudyka, pretty much sums it up for me:
 Go team LOVE OUR BODIES!
Comments (3)