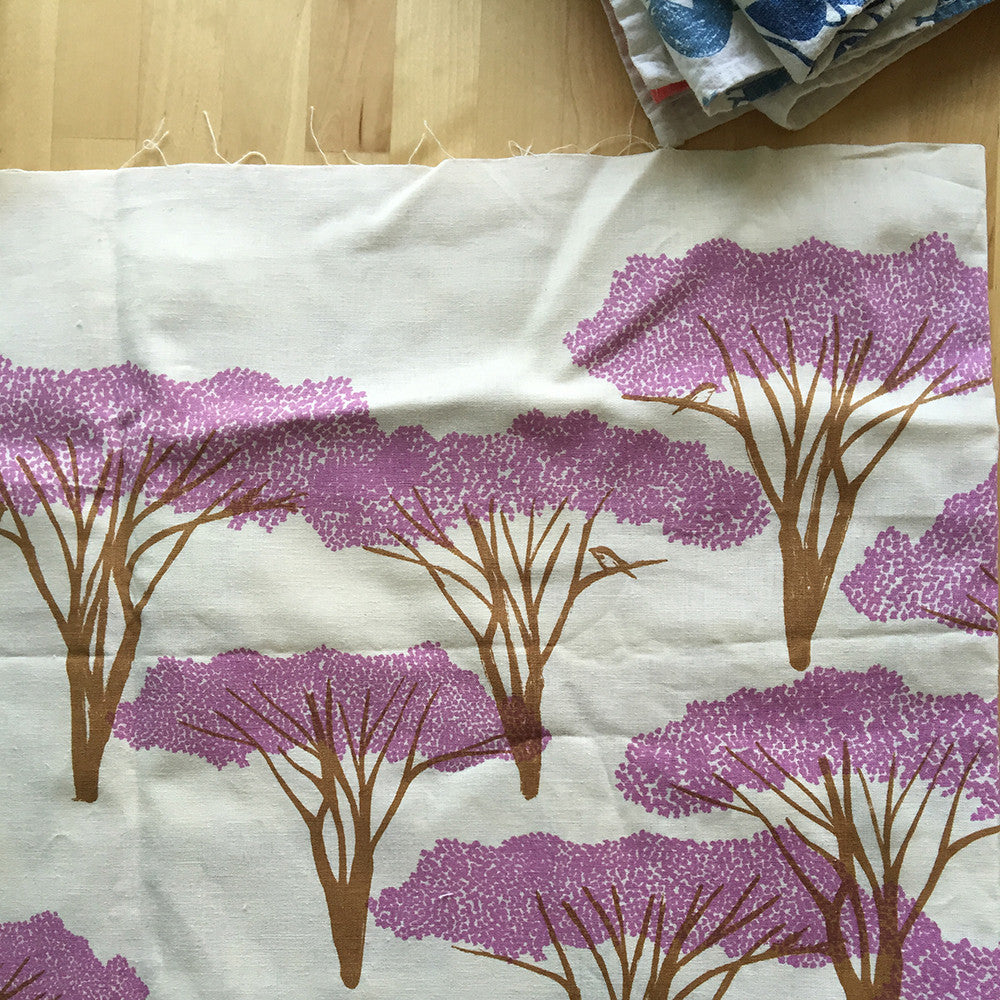 There's nothing quite like adorning your home with handmade, utilitarian art. Using a beautiful hand-thrown mug every morning for coffee, or setting your table with hand-printed textiles, not only brings personality and meaning to your home, but gives you a sense of pride in supporting an artist and small business. These objects aren't meant to be used once and forgotten, but to be enjoyed for years.
That's why I want to answer some common questions about our textiles. When we meet customers at markets, we're usually asked these four questions. 
1. Are your textiles washable?
Yes! They are! After we print our yardage, it's sent off to be professionally heat-set. This means that the fabric is put through a large conveyor heater. The water in the ink completely evaporates, essentially baking the pigments into the fibers of the fabric and making them color-fast. To ensure the longest lifespan for your fabrics, we recommend machine-washing them cold on a gentle cycle. We don't advise using bleach or any other hard chemicals. Here's an example of some of our very well-used and -washed textiles:
2. Will I have to iron these?
It's up to you. Our base fabric is an organic cotton/hemp blend. The hemp gives our fabric more structure than a basic cotton. Out of the dryer, napkins have a casual, tousled look: slightly wrinkled, but not as wrinkled as linen. I hate ironing, so I avoid it whenever possible. But if the in-laws are coming over for Thanksgiving dinner, you'll probably want to iron everything up to and including the glazed carrots. Here's an example:
3. How likely are the inks to fade?
Like any patterned or dyed fabric, the inks will fade a bit with use and over time. But if you continue to wash in cold water, the pigments will hold up quite nicely. We've been using the tea towel below since 2011, and usually just throw it in with the warm wash. Even then the colors hold. I wrote the date on it to check for fading, but the Sharpie is the only part that's faded!
 4. How durable is the fabric?
The 45% blend of hemp in our fabrics makes them way more durable than a flour sack tea towel from Target, or a run-of-the-mill table runner from a department store. Also, hemp is naturally resistant to bacteria and staining. 
This is a pencil case I made almost a year ago from some scrap fabric. As you can see there are no smudges anywhere on this thing! And look at all the colored pencils I keep in it!
It's important to us that you feel comfortable using our wares in your home, or giving them as gifts. In our art, we aim to surpass what's trendy- we work hard to create things that will endure. I hope that this post has helped to answer your questions! If there's anything else you'd like to know, please don't hesitate to ask!
"Have nothing in your homes that you do not know to be useful or believe to be beautiful." — William Morris
Comments (4)