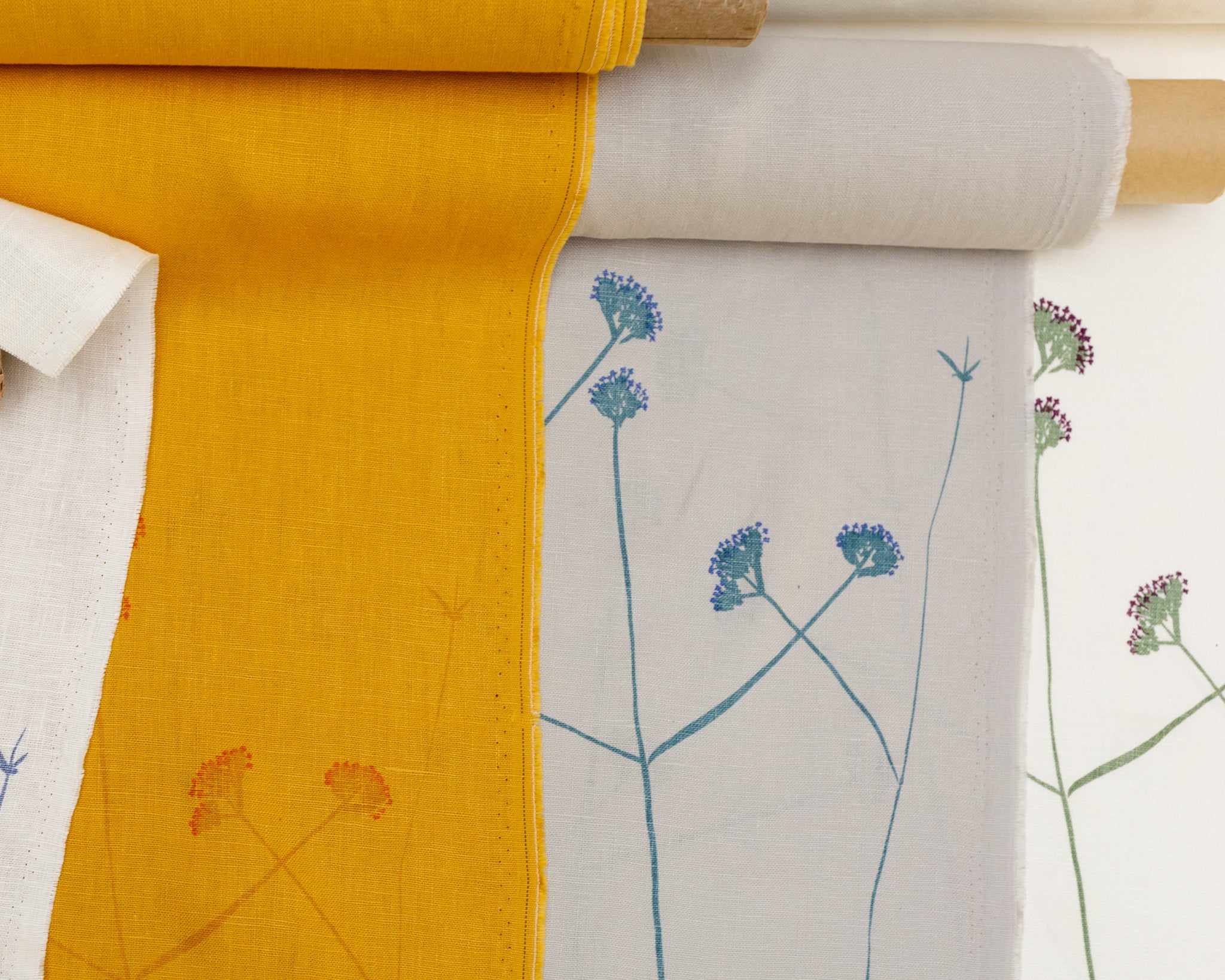 Introducing Verbena! A two color panel print, inspired by the hardy perennial Verbena Bonariensis and my current obsession with making my own clothes. 
I'm fascinated by how print affects a garment. My new sewing hobby has me paying more attention to line weight, positive and negative space, and color combinations when it comes to clothing. It's tricky to wrap your head around the idea of a 2D image becoming a 3D sculpture, and how that 2D image influences the feeling of the sculpture. 
You can see where my mind was going in the sketch I did on the Kabuki Tee pattern by Paper Theory.
With Verbena, I wanted to capture the architecture and airiness of the plant. It grows from clumps into tall, strong stems that form an abstract bird's foot "v" before growing further and replicating itself again. The stems can reach 5-8 feet tall. The flowers form in a mass at the end of each bird's foot, creating a swath of violet color from afar, but up close each is perfectly formed into its own dainty little flower.
I imagined this plant growing up the bottom of a shirt or skirt, as edging around a pillow or just dusting the bottom of a simple curtain.
To create the stem and flowers, I used brush and ink, which lends itself well to screenprinting and the airiness I was after in the design.  
This print is different from our traditional repeat patterns which lock in place like puzzle pieces down the print table. I decided the best way to represent this design would be by panels. Each panel is 54" by 54" (about 1.5 yards x 54" wide). The print starts 5 inches from the bottom of the panel and measures 24" tall.  
The print itself measures approx 24" high by 52" wide. With a panel this size, you're made to consider how the print will affect your finished project. 
In the shop you'll find Verbena in four colorways, including a limited edition goldenrod linen!  
Custom lengths, base cloths, and ink colors are available HERE.
Comments (0)