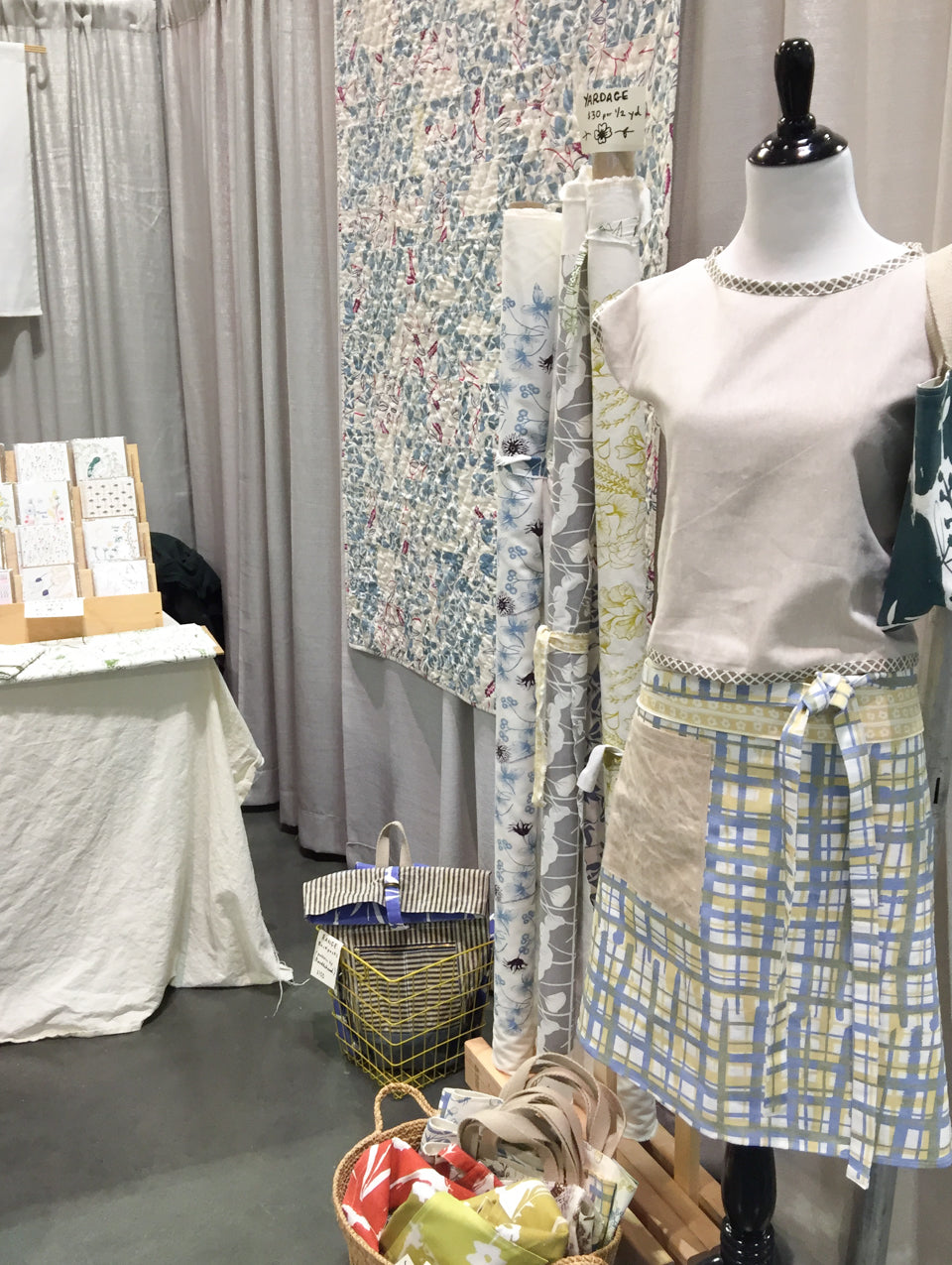 A few weeks ago, Lizzie (my lovely studio assistant, buddy, and business woman behind The Small Circle) exhibited for the first time at QuiltCon. We are forever grateful to everyone who stopped by our booth and purchased a fabric bundle, cut of yardage, pincushion, or binding. Everyone we met was incredibly kind and supportive and had wonderful things to say about our work. Thank you all for your appreciation of hand-printed, organic fabrics, and handmade things. :)
We met so so many amazing quilters, sewists, fabric lovers of all shapes and sizes. It was really an inspiring and gratifying experience to be on the receiving end of so many compliments.
You would think being vendors at a 4-day show would give you ample time to see everything and meet everyone, but I feel like we only scratched the surface! I thought it'd be fun to reminisce a little and share some of what we did and saw on the blog.
Here's a few pics of our booth:
The absolute best part of going to QuiltCon was meeting my longtime Instagram buddy @kzstevens a.k.a Karen! Karen is the coolest. If you're not following her on Instagram, get over there. She is the mending queen and teaches classes at Squam and has contributed to Making Magazine and also has a really cool rice pouch pattern on her website.
We briefly got to meet Kristen from Brooklyn Haberdashery, whose booth Lizzie and I pored over. So many candy-like threads and notions. I'm a big fan of Kristen's latest art work, which are little improv patchwork pieces that she posts on her Instagram.
Karen's work (photo via her website):
Kristen's improv stitchwork (photo via her Instagram):
I was so happy to meet another fellow hand-printer, Pantera from Brooklyn Mojo. Pantera does really cool stuff like using leaves and flowers to make images on her screens. Check out her website linked above and her Instagram here.
Brooklyn Mojo's botanical screenprints on fabric (photo via her Instagram):
I've been a fan of Deborah's work from Fish Museum and Circus ever since reading about her on Abby Glassenberg's blog, so it was great to finally meet her. I got so many buttons - I've just been rolling them around in my hand I love them so much. I'm working on a new bag design to use Deborah's buttons as the closure. Can't wait to show you that!
Deborah's amazing ceramic pincushions (photo via her Etsy shop) and buttons:
Speaking of little cute things, I couldn't help but get into the "pin" spirit of QuiltCon. I designed these sweet little pins that Lizzie and I gave out to passerbys.
I picked up a few lovely books at the show. I was lucky enough to meet Sherri Lynn Wood and have her sign my copy of The Improv Handbook for Modern Quilters. Sherri's quilts were on display at the show and they were absolutely amazing. Sherri is also lovely and I couldn't help but give her a hug. 
It was great to finally meet the women behind Ruby Star Society as well as Sarah Watts who had a really cool booth with her prints and cards. Kari and Brittany from TopStitch Atl were also there scouting the show and it was fun to finally meet them in person, after stalking them on Instagram for years!
Sarah Watts' prints:
I also couldn't help myself with these organic poplin from Birch Fabrics. I'm thinking of Lotta Jansdotter's Esme tunic in the umbrella print fabric with Lizzie's binding as accent. 
The quilts on display were really amazing. Here's just a few.
The City Zoo by Zoe Summers, 3rd place Youth.
Quilts from the Childress Collection:
At the Junction by Marla Varner:
Daisy Aschehoug of Warm Folk:
"not showing proper deference to wypipo" by Chawne Kimber:
(misplaced the owner/maker of this one):
That's about it! QuiltCon was amazing, and if you like fabrics, making things, quilting or sewing of any kind, I think it's a great place to go for inspiration and meeting like-minded folks. QuiltCon 2020 is in Austin! Hope to see you there!
Comments (1)